Greater Houston Investors Take Heed to Trending Hold Property News!
Find below a recent article I found below by Diana Olik which  totally blows the lid off how here to fore hold investors have operated as a whole Nationwide as well as Greater Houston Texas.
This Business is Truly a Moving Target!  Gotta Get in The Game!!!

Enjoy!
Steve & Peggy D.
New Article,
It was widely deemed a temporary play: Large-scale investors buying thousands of discounted foreclosed properties during the worst of the housing crash and turning them into single-family rentals. When home prices recovered, they would surely sell them for a hefty profit. The housing market is recovering, albeit more slowly than expected. Foreclosure volume is way down and home prices are way up, but these investors are not selling.
They are buying more, and now they are buying new.
"I actually think that we're coming into perhaps the most compelling three or four years that I've seen since I've been in the business," said Doug Brien, CEO of Starwood Waypoint Residential Trust.(SWAY)
Brien, standing in front of one of his company's rental homes in a brand-new housing development in Lawrenceville, Georgia, near Atlanta, says builders are the next frontier for institutional investors.
"For us operationally, being able to have a brand-new home that typically has a warranty, that works well for us. We can also customize floor plans that work for the business," added Brien.
Starwood Waypoint, which launched its business seven years ago, now owns more than 16,000 single-family rentals, the vast majority of which were foreclosures. So far it has purchased about 200 brand-new homes from builders, with an average price point of around $180,000. These homes represent about 5 percent of the REIT's portfolio.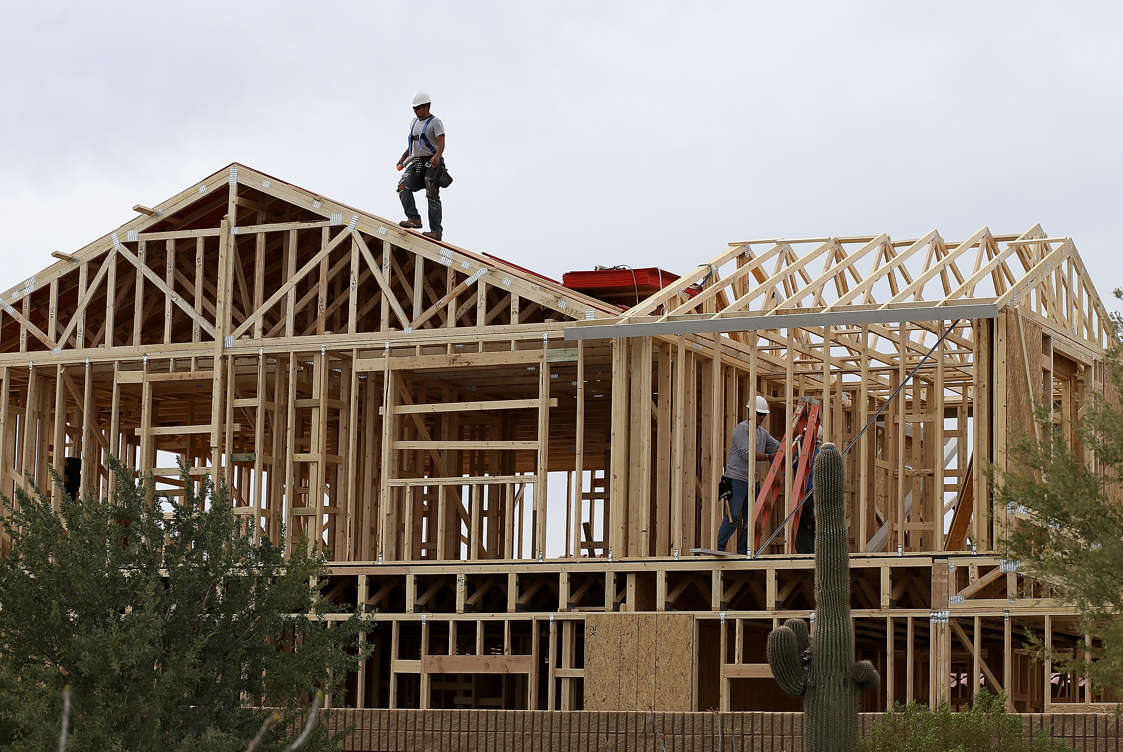 "I think the institutional capital is still looking at this very carefully, because there's a belief, and I support that belief, that it is a long-term hold and there's yield and there's appreciation to be had," said Tim Sullivan, practice leader at Meyers Research. "But the real challenge for capital now, for the institutional capital sources, is that the massive low-lying fruit is gone."
That fruit, cheap foreclosures, offered investors a relatively low-risk play, because they could buy homes at well below the cost of replacement, and not only would they see rental revenue but also property price appreciation. As this new interest develops, however, builders are starting to offer institutional buyers bulk discounts. Not only does it help builders grow revenue, but it gets them closer to normal levels of production, which has been a real struggle thus far.
Miami-based Lennar (LEN), one of the nation's largest homebuilders, is experimenting with the single-family rental market itself. It made a smart hedge during the housing crash by putting up multifamily apartment buildings. It now has 20,000 apartment units under construction, according to company reports. This year Lennar took that one step further, opening its first single-family rental community in Sparks, Nevada.
"One of the big criticisms of the single-family rental world is that they're all kind of one-offs in unique locations with unique amenities. The scalability of the management is what gets it complicated. This makes it much more like an apartment community in that it's all together and can be managed by a single entity," said Stuart Miller, Lennar's CEO.
Miller said Lennar will probably start another rental community, or possibly two.
"I'm surprised more builders haven't already taken the plunge," said Sullivan.
Miller didn't say if Lennar would start selling to large-scale investors, but Brien said he has purchased some of Starwood Waypoint's homes from at least one public builder. Mostly he targets smaller, local builders.
"In some instances we're going in and buying the first 10 percent of a development, in some instances we're coming in and buying the last 10 percent of a development, and what they're trying to do is build more homes, and we're enabling them to increase their volume and their sales velocity by buying homes," said Brien. "We're talking to bigger builders who want to set up a buying program with us where we take down certain percentages of different developments and communities that they have around the country, and that's pretty exciting."
Brien claims demand is stronger than ever, especially for new product. When Starwood Waypoint first began renting its homes, the vast majority of its tenants had gone through foreclosure and had no choice but to rent. Today less than half of his tenants went through foreclosure; they are renters by choice, and they are willing to pay a premium for newly built homes.
In many of the nation's actively selling, master-planned communities, which don't build homes just for rent, there are a significant number of renters anyway.
"Our research, which we confirmed with the CEOs of several of the institutional investors, shows that these renters live in detached homes primarily because that is the preferred lifestyle. Most of them did not even consider renting an apartment," wrote John Burns of John Burns Real Estate Consulting in a recent report. "They prefer to live in a detached home and are renting either because of necessity, flexibility or choice."
The nation's homeownership rate, which continues to fall, is now at the lowest in a half a century. While home sales are improving, both homeowners and renters are feeling less confident about the housing market now than they were even at the beginning of this year, according to Zillow. Fewer overall say now is a good time to buy.